JANE BENSON
Candidate for Wisconsin 89th Assembly District

I'm Jane Benson and with your help I'll be your next State Representative for Wisconsin's 89th Assembly District. My goal is to be a fair voice for all of our people, not just the wealthy few, the corporate lobbyists, or the politically well connected. We know the legislature is not listening to the majority of us right now. Together, we have the opportunity to change that!
For nearly 20 years, my family has lived in Suamico. As a small business owner, I've had the opportunity to work with numerous businesses in Wisconsin, other states and even other countries. Exploring these organizations has given me an inside view of what is necessary for people and companies to succeed in our district. I manage complex projects, problem solve and learn new things every day. Those skills will transfer very well to legislative work.
The 89th Assembly District covers parts of Brown, Oconto and Marinette counties. The eastern border runs right along the bay of Green Bay.
Our district has a lot to be proud of and to offer to the people who live and work here: family neighborhoods with great public schools; amazing outdoor activities and the natural highlight of the bay of Green Bay; significant businesses that provide products locally, as well as to the US, the military and the world; and lots of productive farmland that helps feed and provide fuel to the people of Wisconsin and far beyond.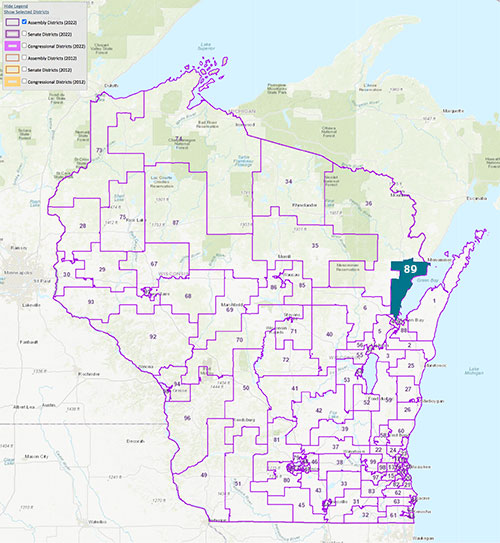 I will work on behalf of the whole district on issues the majority of our citizens want. We have a lot to be proud of but there are serious threats, too. Families should thrive. The next generations should want to stay here to raise their families in a safe, clean environment; where everyone is respected; where our schools are well funded; and our internet access in rural areas finally makes us technologically competitive with urban areas.